A mask moves during (UV) radiation and controls the energy incident on the photoresist surface, thereby enabling fabrication of 3D microstructures with arbitrary curve or slope.
Main feature
Our original mirror & lens optical system realizes uniform radiation covering the full exposure area.
Equipped with gap sensors for non-contact gap making with a good in-plane uniformity, and an alignment system composed of microscopes and a XYθstage for aligning the existing layer(s) on a substrate to a mask pattern.
In the "Moving UV mask" method (in which a piezo stage micropositions a mask during exposure), the thick resist's sidewall slope angle is controllable, thereby fabricating 3D microstructures is possible.
"Moving UV mask" method
Example of 50μ-thick resist pattern
L/S=50μm
Mask travel =20μm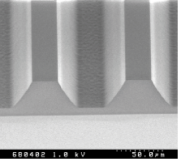 Dot=Φ50μm
Mask travel =Φ25μm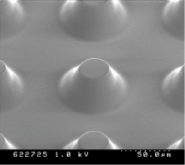 Main spec
MUMseries
Mask size
Max 9″ x 9″ x t3.0 mm
Substrate size
Max Φ8″(Wafer)
Light source
Super high-pressure mercury lamp:500W or 1kW
Outer dimensions and weights
Main body dimensions
W2120 x D1305 x H1850 mm
Main body weight
640kg
※Custom substrate size, mercury lamp wattage or other special spec available.