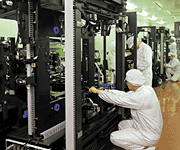 Skill, craftsmanship, and devotion to
state-of-the-art technology
Highly skilled and experienced engineers oversee all aspects of production-related workflow, from parts procurement, fabrication, assembly, and product installation up until final adjustments.
Strict inspections implemented every step of the way ensure that all of our products offer the ultimate in high quality reliability.
Production arrangements
Vigilant delivery and cost control ensures that parts are procured promptly and dependably.
Processing
In our company and with our subcontractors, parts are processed using state-of-the-art microscopic techniques. Repeated strict inspections during the production process ensure that high precision components are crafted from perfect individual parts.
Assembly
Parts are put together with scrupulous care and checked time and again by highly trained engineers, expert in the assembly of highprecision machinery.
Adjustment and functional testing
To achieve the utmost in product performance, our experienced setup engineers carry out a sequence of detailed tests and adjustments. Before shipment, a rigorous final inspection is performed, which takes each particular customer's needs into full account.