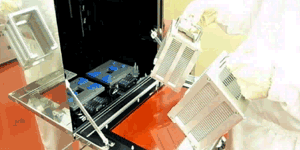 Aftercare based on our extensive service system
Just as important as a product that represents state-of-the-art development and production technology is the product's reliable operation over time, the field of aftercare.
Aftercare for our products begins when they are delivered, and continues indefinitely.
Since our goal is customer satisfaction, we spare no efforts to deepen our relationship with our customers and respond to their needs.
Delivery
Products are delivered and installed by our setup engineers. To guarantee the reliability and high quality of our products, we perform a range of function tests again at our customers' sites, to confirm that the machines will perform as well or better than before shipment.
Maintenance
The advantages of our total system, designed to fulfill our customers' needs from order acceptance to delivery, become clear after the product is delivered, when our service engineers assume responsibility for ensuring ongoing product quality, through their strict maintenance and inspection procedures.
Customer management
Since all delivered products are detailed and managed in our customer lists, we make the most of this data when implementing maintenance services. Our ongoing commitment to customer care starts when the order is accepted and continues without interruption for the life of the machine, throughout aftercare service. Aftercare reinforces our cooperative relationship with our customers, as we do our utmost to give you the competitive edge you need in today's market.