Ever since its establishment in 1967, the Japan Science Engineering Co., Ltd., has thrived by manufacturing products according our steadfast belief that our first priority is the quality of our products and the satisfaction of our customers.
Our business has steadily developed, thanks to the patronage and cooperation of a great number of dedicated individuals.
Our core business are manufacturing state-of-the-art equipment for LCD panel production. This is made possible by combining advanced optics, precision mechanics, electronic control and software expertise into our unique blend of "optomechatronics" technology. Within our company, each one of our employees is devoted to our goal of developing advanced technology for future generations.
In addition, we are engaged in stringent quality control in compliance with the certified ISO-9001 standards.
By continuously striving for the ultimate in quality, while offering quick delivery and the best possible value throughout our entire product line, we will continue to produce equipment that flexibly satisfies our diverse customers' needs.
We deeply appreciate your continued loyalty, while your success in today's competitive markets is our greatest satisfaction.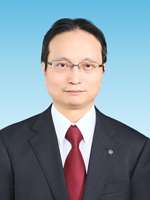 President
Koji Okamoto